Allora and Calzadilla are a collaborative duo of visual artists who live and work in San Juan, Puerto Rico.
Jennifer Allora (b. 1974, Philadelphia, USA) and Guillermo Calzadilla (b. 1971, Havana, Cuba)
Since the beginning of their collaborative career in 1995, Allora & Calzadilla have worked in a variety of media to produce a body of work spanning sculpture, photography, performance art, sound and video. Allora and Calzadilla are known for their interactive art pieces in public, often addressing social and political issues and engaging questions of history, geopolitics, and culture.
Chalk (1998) is an ongoing art project in which the artists place human-size sticks of chalk – each piece measuring 64 inches in length – in public spaces for passers-by to use as they choose.
Chalk is not a completed project. It has been presented in many cities globally, including Zapopan-Mexico, Boston, Paris, Sydney and New York. This ongoing project was also installed in the central government square in Lima, Peru, to stand as a part of the 2002 Biennial Iberoamericana. With each iteration, the character of the work shifts in response to the locals, social, and political factors
I wanted to share this to broaden the vision of the formats that a collective demonstration can have. I find it interesting to think about the complaint beyond institutional formats. I would like to highlight the simplicity of this piece as a potential for the use of public space as a huge blackboard, an extended canvas on which one can write, sue or complain.
Although the piece is not a specific call to express complaints, on the multiple occasions in which the "agents, executors, pedestrians or participants" have performed, they use the opportunity to express general discontent, complaints with the government, emotional manifestations or political positions. .
I also wanted to show this in relation to the book Complaintivism!, to see explorations of how the complaint can be thought from art, how from the idea of "installation, performance or drawing" the public space can be rethought to share the private issues.
Remarkable the game with the scale. It seems accurate to me, how a device as simple as chalk, with that school connotation that it has, by making it giant, takes on a sculptural dimension that empowers the potential writer. Removing the chalk out of class and placing it into art spaces or streets stands as a chance for the public to share their ideas and enlighten their foils.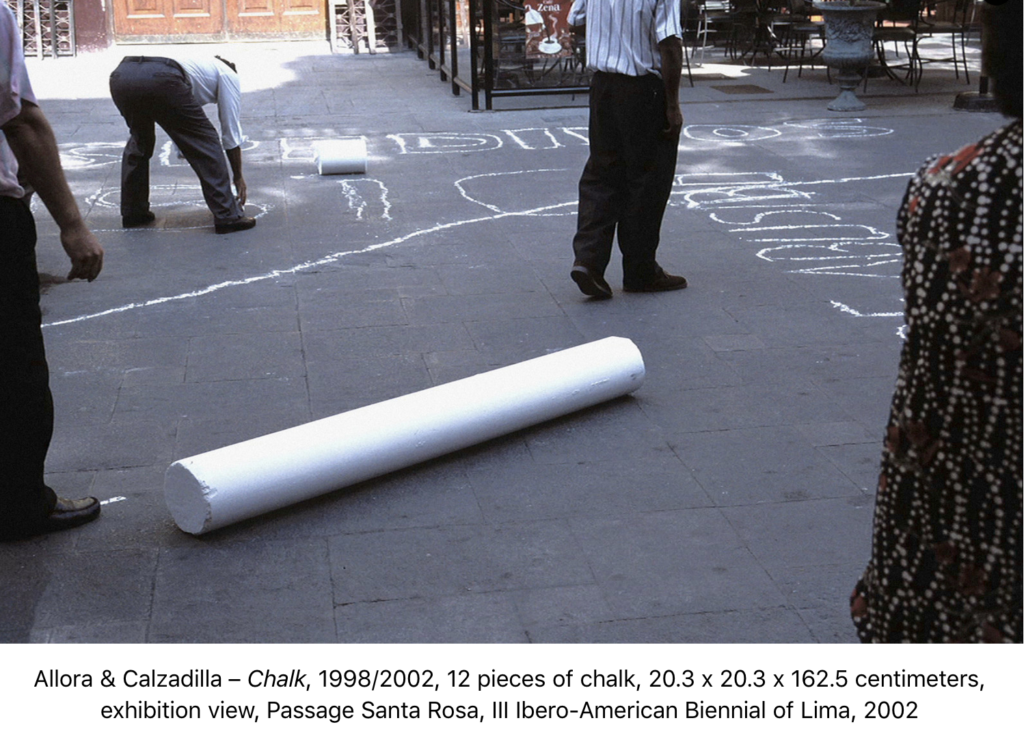 Víctor del Oral