A collage,
The power of the glasses, "Seeing the world through the lenses of complain. After this the world can't be unseen. It gives you an capacity. An capacity to explain what is happening". This can be a curse and a blessing. We didn't choose to wear these glasses. They've been put on our faces without requests. They've been put on our faces, and now they've become a part of who we are.
The morning the glasses found the body.
The morning dawn settled on the empty streets of Ghent. The city is still sleeping. The light is wrestling its way in. The curtains won't let the morning lighting in.
My footsteps can be heard on the stairs. I'm finding my way to the door. Everything feels surreal. The scent inherent in this 'famous house'. The posters decorating the white, broken walls. When the front door opens, the light hits my eyes. The glasses rest on my nose bridge.
These glasses reach further than the eyes.
From the neck,
to the breasts,
tummy, hips, right and left leg,
the ankle and the feet.

As a fear of the memorie that the skin beholds.
Lines fill up the empty roll of paper.
Hoping that this second skin will wear off. That the glasses will fall.
Blue and black lines become conscious and subconscious reality's on paper.

The body starts moving,
the hip makes a sound, the bones form an orchestra.
The violin, cornet, trumpet, bugle, euphonium and trombone are screaming.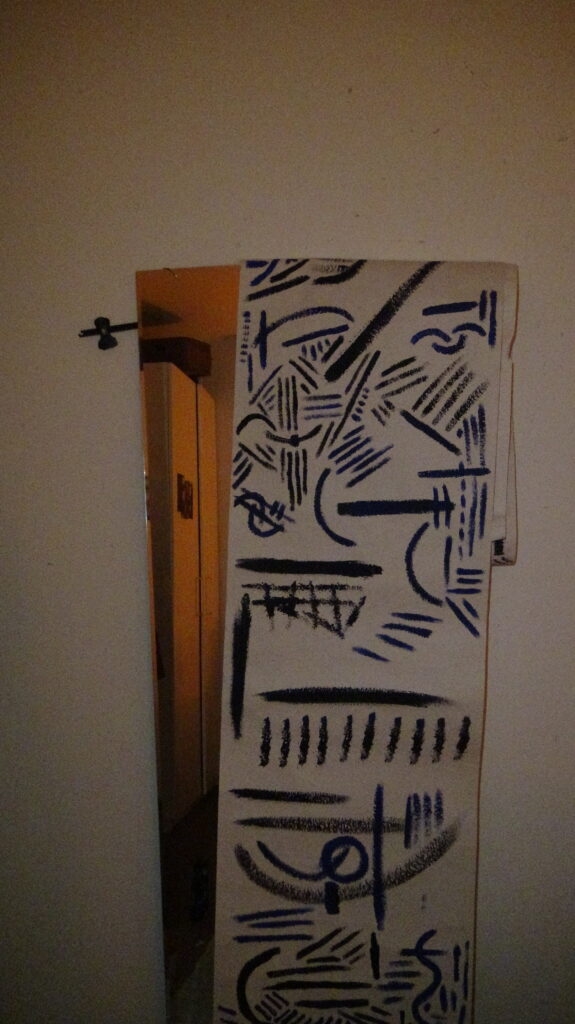 As these glasses slowly become the reality.
As these glasses slowly become the reality.
In one of my nightly walks in Weimar, I passed a brown café. Filled with testosterone, men leaving the house to sit around a table with their male friends and get drunk. And the cliché doesn't stop here, one woman. At the corner of the bar, multiple layers on her face. In need of validation from all those misogynistic men around her. This is a preconceived opinion, my opinion. Soon the café disappears from my sight. And I walk further into the cold.
As these glasses slowly become the reality.
The body makes a movement on the experimental sound the speakers are telling us. Intoxicated body's are filling up the room. In our own world, we move. And as this is my reality, in which movement is an outlet, I move. The memorie of the skin, the memorie of the body, the memorie of these eyes which wear the glasses happens. The white walls of the room fill up my vision. Girls and boys dancing. Flashlights, in neon colors. The sweat finds a spot on the forehead, the heart is pounding.
As these glasses slowly become the reality the mind and body live in. We try to move and try to live with it. A new lens is placed on the world we live in today.