Through the reading of chapter two of the book "Complaint!" by Sarah Ahmed I affirmed many of the thoughts that come into my mind when questioning myself on how societies work and are built up. Some of these are often related to the abuse of man-power in different institutions which was the common denominator in many of the experiences of neglect towards complaints reported by the author on this occasion.
As I saw myself once again in positions of many of the women of these stories I felt that there has to be something so rotten and unviable and disgusting in our society to keep being this much of conformists and keep allowing injustices in any space, not just in big scenarios such as institutions, universities, but also between relationships, from any type; on how reduced we can feel ourselves when we make a complaint and not being able to see how basic it is to ask for respect.
I highlighted some phrases/quotes that I liked from this chapter and tried to make something out of it. As I study Visual Communication and graphic / typographical poster design happen to be one of my passions I designed a 7 A4 posters serie. Each poster contains a quote I chose.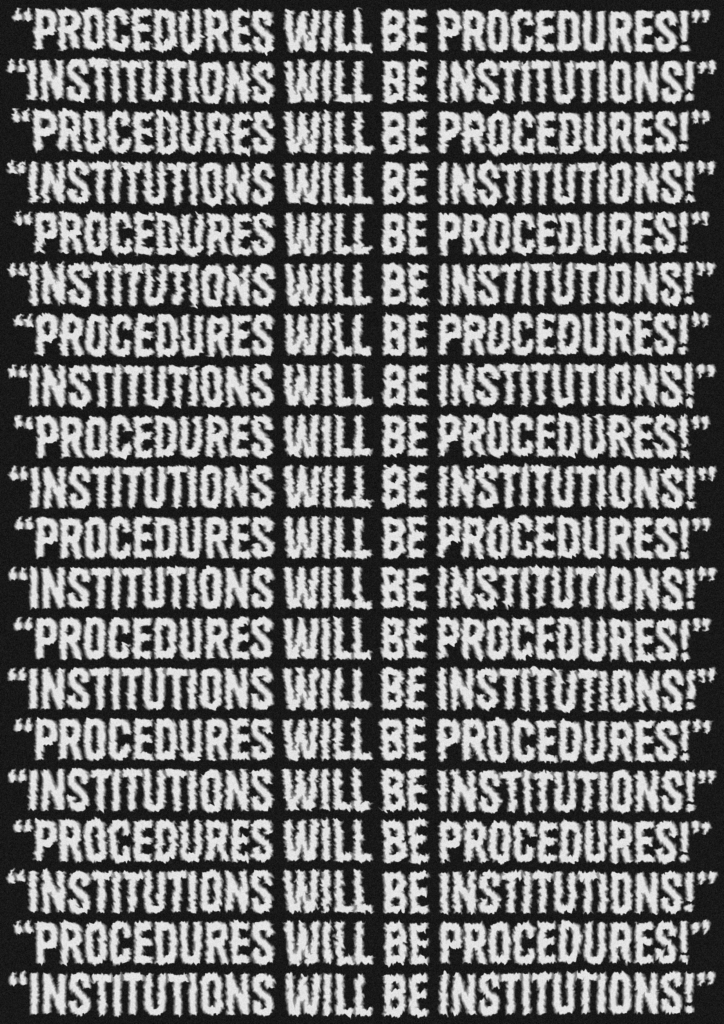 This two phrases are the clear example of what conformism sounds like to me. And while doing a complaint many doubts can come on the way that finally may lead to conformism. The action of standing in the same point without having any expectation on the result, which is, in other words, "being stopped" – the title of chapter 2.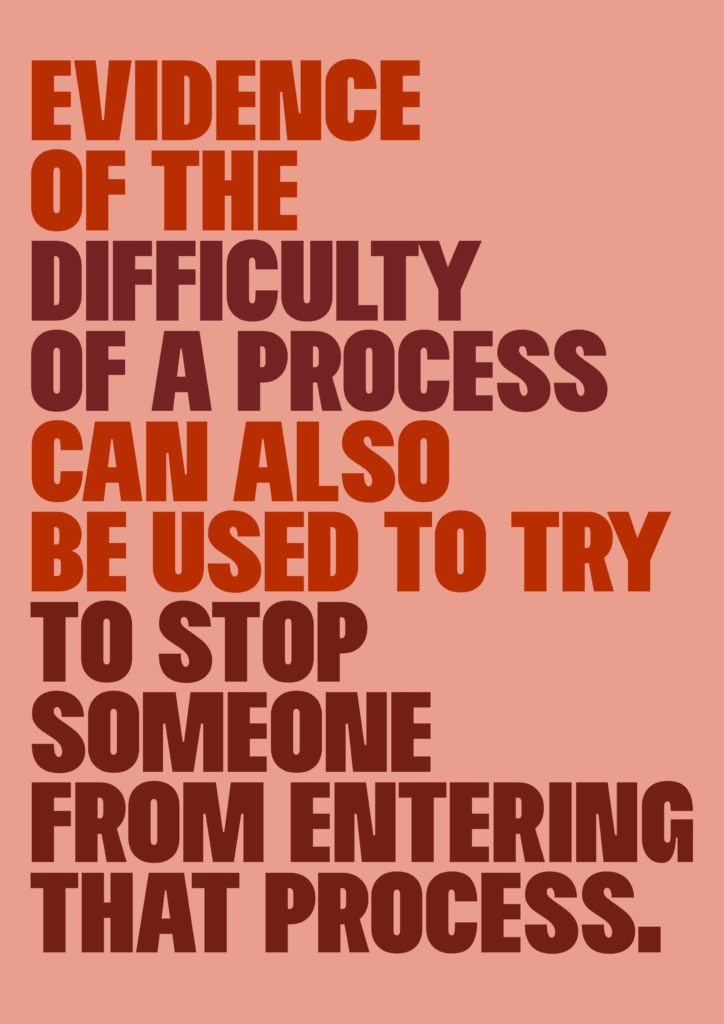 Ahmed offers these words by pointing that warnings often frighted people, and fear is also a mean of control. Really powerful I may say. When you have to face a process but previously see how tedious it is going to be, you just want to give up.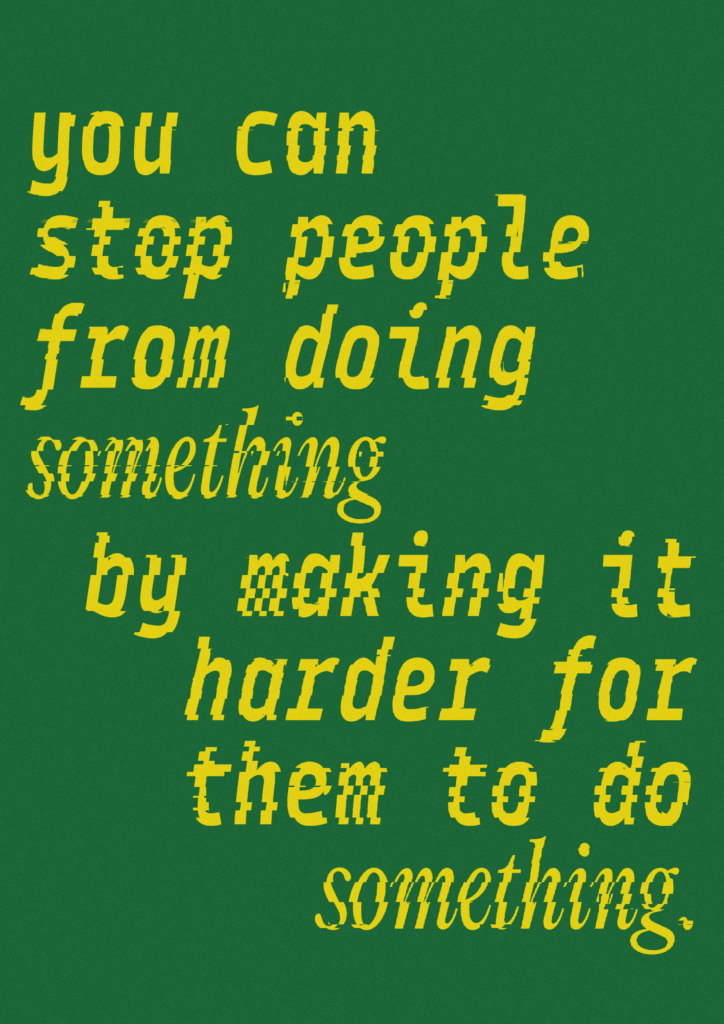 This quote perfectly fits with the previous one.
While you recognize blockages, burdens, doubts and lack of companionship during a process, there is no reason left to pursue it, no matter how significant and dignifying it may be, the future and end do not seem to be prosper.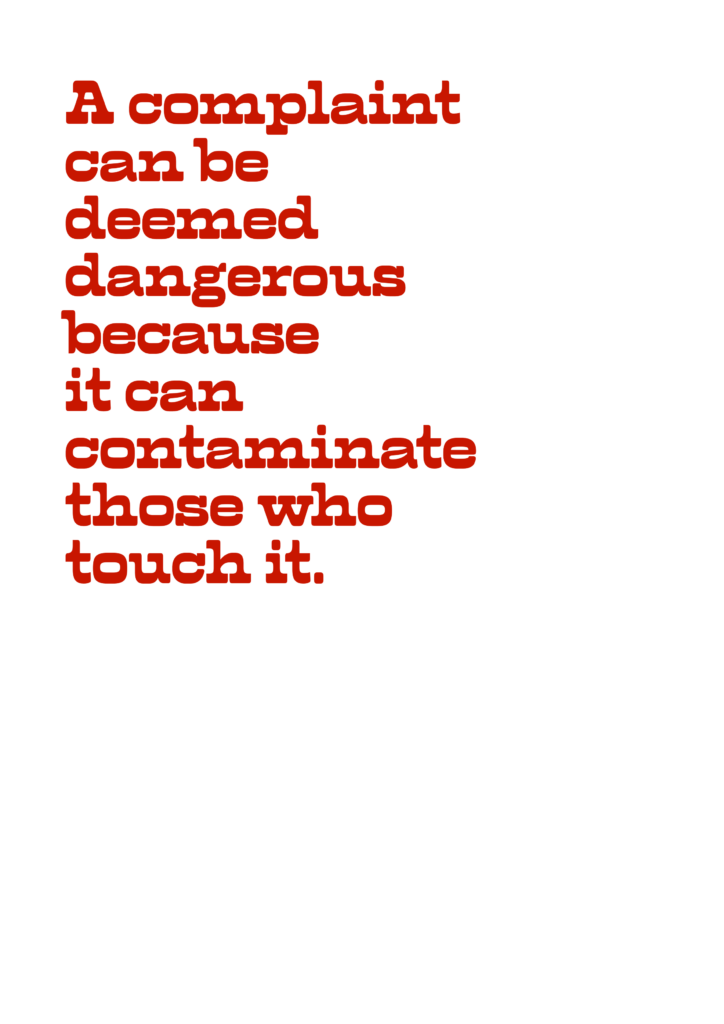 When a complaint involves various parties in a previously corrupted environment, it just does not put anyone in a fructose position because maybe many hidden and past situations may come to light through the process and can condemn the involved ones into new / not-so-convinient situations.
Sarah Ahmed mentioned this phrase to point out the perspective that a complaint often has a role of a valve that lets something scape to the air and then it just suddenly disappears, by avoiding an inner explosion.
I partially disagree in this case because I consider that a complaint can potentially cause an explosion if it is managed in the desired way. To make clear my point I am going to use an example: my boss has sexually harassed me. I proceed to make a complaint and it is utopically taken into account. My complaint is studied and proven. He gets fired and everyone gets notified the reason why. More people at my same job start reporting and exposing other sexual abuses in our field. The bomb now has exploded. My complaint was taken into account and has led to more people make their own complaints.
In my perception, there shouldn't be a need to shout in the first place, but of course as some are in higher positions, the ones in the bottom are hard to be heard. Everyone should be heard at any context. Here it is possible to recognize how inequalities cause so many gaps, also seen throughout the spacing of the words in the poster.
Ahmed makes this appreciation by comparing the process of doing a complaint with a wall. When there is a blockage, when something needs to be stopped. However, this does not mean that it is the end, one must wait to the the outcome of this difficult processes. And finally I interpret this sentence as the author wanting to say that resistance comes not by tearing the wall down, but thought the capacity of keeping on track without giving up.